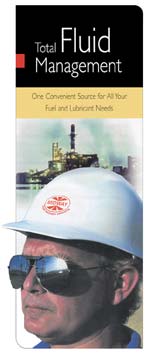 Total Fluid Management
CITGO Racing Fuels
Midway History
HOME
We help our customers identify their crucial objectives, analyse their petroleum needs and develop the most effective product and process solutions by offering a wide variety of products and services:
Used Oil & Oily Water Processing
Midway provides the transportation and reclamation of oils and oily water.

Parts Washers, Paint Gun Cleaners, Agitators
We distribute and service all types of parts washers common to manufacturing and the vehicle maintenance industry.

Industrial Waste Disposal & Solvent Reclamation
Our services include the "easy-to-permit" waste disposal program which handles hazardous and non-hazardous industrial waste disposal.

Complete Lubrication Instructions
We recommend simplified lubrication scheduling, application methods and frequencies.

Reduce Lubricant Dispensing & Inventory Costs
We recommend storage and handling proceedures to improve distribution and reduce disposal costs.

Environmental, Safety & Health
We provide Material Safety Data Bulletins, training programs, informational publications and regulatory information.

Simplify Controls
We can help improve your record keeping and provide feedback on equipment performance.

Service & Support
Laboratory product testing, prompt delivery service, equipment loan program, 24-hour order board.

Fuels
Diesel, gasoline, K-I kerosene, heating oil #1,2,4,5&6, aviation, railroad & marine, all season premium diesel.

On-Site Fueling
Fueling at your construction site on your schedule

Industrial
hydraulic oil, circulation, turbine, hoist, compressor, food grade oil

Manufacturing
way oils, heat transfer, rust preventative (milAppr), grease & gear oils (including synthetics)

Metal Working Fluids
water soluble, active & inactive sulfur, quenching, drawing & stamping lubricants (including synthetics)

Fleet Contractor
motor oils, transmission fluids, anti-freeze (long -life), grease & gear oils (including synthetics)

Speciality
aviation engine oils, marine & railroad oils, aviation, hydraulics, greases & additives (including synthetics)

Equipment Programs for Distributions Systems
purchase/lease or loaner program (available based on volume)

Petroleum Clean-up Products
parts cleaner, EZ-Sweep absorbent, hand cleaner, industrial solvent, Oil Dri, Petro-sorb, Pigs Spill absorbents
We are proud to offer you superior customer service and the ability to meet your needs with:

Timely Delivery
Midway Oil's delivery of diesel, gasoline, and lubricants is fast and reliable. Timely delivery of petroleum products is available to meet any emergency.

Industry Expertise
Our expertise in various industry segments including environmental, allows us to address objectives through total fluid management. We focus on solutions that deliver the best return on your investment.

Cost Effectiveness
Our approach and specialization minimize your time commitment by establishing sound preventative maintenance practices, on-site training, product consolidation, lab analysis and performance monitoring

Inventory Control
We chart machinery for correct lubrication and consolidate lubrication needs with multi-service products.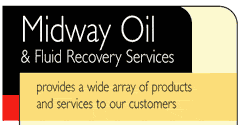 Gasoline
Diesel Fuel
Fuels & Oils for Aviation, Marine & Railroads
Anti-Freeze
Coatings
Coolants
K-I Kerosene
Heating Oil
Motor Oil
Transmission Fluids
Food Grade Lubricants
Water Soluble, Active & Inactive Sulfer, Quenching
Drawing, & Stamping Lubricants
Anti-Seize Lubricants
Compressor Lubricants
Conveyor Lubricants
Gear Lubricants
Synthetic Lubricants
Turbine Lubricants
Cutting & Drawing Oils
Diesel Oils
Hardening, Tempering & Quenching Oils
Hydraulic Oils
Way Oils
Heat Transfer Oils
Specialty Services
Used oil & oily water recycling
Industrial waste transportation & disposal
Site specific wet fueling applications
Spill plan contingencies & countermeasure programs
Environmental Regulatory Compliance audits
Monthly Water Discharge Reports (DMRs)
Oil & waste analytical services
HOME | Total Fluid Management | CITGO Racing Fuels | Midway History

M I D W A Y O I L C O M P A N Y
P.O. Box 4540
Rock Island, IL
Telephone: 309 788-4549
Fax: 309 788-5083
drequet@midwayoil.com