Chronological History of Midway Oil Company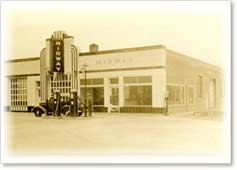 Midway Oil Company was formed in January, 1920 to deliver gas, fuel oil and motor oils to the farmers in Iowa and Illinois. Gerald H. Falder, Sr. was the founder and owner. Midway, like many other distributors, supplied farmers through a network of commissioned bulk plants. At its peak, these bulk plants numbered 18, and operated 56 dealer stations.

In 1960, Midway and all of its locations were signed by Gayle J. Bliss to the Cities Service Oil Company family. The CITGO flag became the first of the Midway flags. In December, 1963, Gerald H. Falder, Sr. passed away. Gerald H. Falder, Jr. succeeded him as President from 1963 through 1975.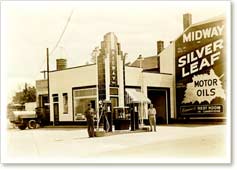 In February, 1966, Mr. Falder successfully persuaded Mr. Bliss to leave his Division Manager's position with CITGO and take up the helm as Executive-Vice President and Chief Operating Officer of Midway Oil Company. Under Gayle's direction, Midway became one of the first multi-branded distributors by branding with Mobil, Phillips, Kerr McGee, Apso, and Ashland, as well as, Chevron Oil.

In 1975, Gayle, foreseeing the forthcoming of the "convenience store", formed a company known as Raven Corp. with himself, G. H. Falder, Jr. and another investor. This company was set up to service the C-Store arm of Midway Oil Company. Raven has no employees and only has two officers; a President and a Secretary/Treasurer.

In 1975, G.H. Falder, Jr. passed away and was succeeded by Gayle J. Bliss as President of Midway Oil Company. Mr. Falder had, prior to his death, established a trust to handle his estate. !"his estate had no desire to continue operations under Raven Corp., and sold all of its interests back to the company treasury, as did the outside investor. This left Mr. Bliss as 100% shareholder in Raven Corp. Operating under full disclosure to the Falder Trust, Mr. Bliss continued to develop both Midway Oil Company and Raven Corp. through the late 70's and mid 80's. As Raven generated revenues because of its low operating expenses, these funds were used to acquire additional sites and equipment. The sole purpose was to develop additional businesses and investments. At no time, in its past or present history, has Raven ever paid any salaries.

In 1989, Midway Oil Company successfully purchased all of the Falder Trust Stock in Midway, for a price of 1. 3 million dollars. At this time, the Company became 100% owned by employees. After the trust relinquished their interest in Midway, Mr. Bliss agreed to a stock exchange of Midway Stock for all of his stock in Raven Corp. Raven Corp. now is owned 100% by Midway Oil Company and is a full subsidiary on the income tax reports.

In November, 1989, Mr. Bliss resigned as President of Midway Oil Company, and David A. Requet was elected to succeed him as President and Chief Operating Office. Mr. Bliss remained active as Chairman of the Board of Midway Oil Company and as President of Raven Corp.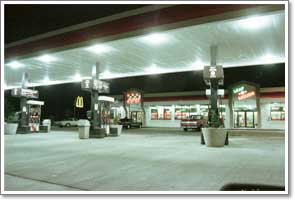 In July of 1991, Midway entered into any agreement with an affiliated Company, Moco Realty to provide information processing services. This system was to provide Midway, its associates, and dealers with state of the art equipment and software, in order to maintain a competitive edge in the Convenient Store industry. This system has become a successful business unit on its own.

Since 1990, Midway Oil has continued to grow at an average rate of 10% per year, at the same time retiring 77% of the company stock from the Falder Trust on a payment schedule of less than ten (10) years.

On December 1, 1994, Gayle J. Bliss, Chairman of the Board, passed away and was replaced by John R. Bliss. John is very active in the Company, presiding not only as Chairman, but as Vice President of Sales and overseer of all Company operated stores. At the same time, David A. Requet was elected President of Raven Corp. and is Chief Executive Office of both Midway Oil Company and Raven Corp.